The sunny Carols and Lullabies: Christmas in the Southwest by Conrad Susa derives from the folk music of Hispanic America, and sets the Holy birth in the context of a Southwestern pinata party. Italian composer Ottorino Respighi was an early twentieth-century composer who looked to the past for inspiration and musical materials, e.g., in his well-known Ancient Airs and Dances. This tendency can also be heard in the Laud to the Nativity of Our Lord, Respighi's self-described "personal Christmas card to the world." The disc also includes the premiere recording of a Chor Leoni commission, Magnificat by Vancouver composer Rupert Lang. Using the unusual combination of mezzo-soprano soloist and male chorus, Lang seeks to express Mary's personal, human response to the formal biblical text, with wonderful results.
Special guests for this recording include mezzo-soprano Mariateresa Magisano (winner of the 1998 Metropolitan Opera Auditions), soprano Lambroula Maria Pappas (winner of the 1999 Metropolitan Opera Auditions), and Elektra Women's Choir (four-time consecutive First Place winners in the CBC Competition).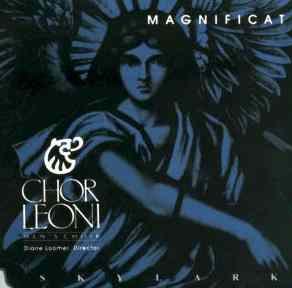 Please note that the only difference between this edition and our earlier Magnificat CD is the packaging and new name. Carols & Lullabies: Christmas in the Southwest contains all of the music and notes from Magnificat.
Track List
1. ¡Oh, mi Belén! – from Carols & Lullabies: Christmas in the Southwest – Conrad Susa
2. El Desembre Congelat – from Carols & Lullabies: Christmas in the Southwest – Conrad Susa
3. Alegría – from Carols & Lullabies: Christmas in the Southwest – Conrad Susa
4. A la Nanita Nana – from Carols & Lullabies: Christmas in the Southwest – Conrad Susa
5. Las Posadas – from Carols & Lullabies: Christmas in the Southwest – Conrad Susa
6. Campana Sobre Campana – from Carols & Lullabies: Christmas in the Southwest – Conrad Susa
7.  En Belén Tocan a Fuego – from Carols & Lullabies: Christmas in the Southwest – Conrad Susa
8. El Noi de la Mare – from Carols & Lullabies: Christmas in the Southwest – Conrad Susa
9. Chiquirriquitín – from Carols & Lullabies: Christmas in the Southwest – Conrad Susa
10. El Rorro – from Carols & Lullabies: Christmas in the Southwest – Conrad Susa
11. Lauda per la Natività del Signore Ottorino Respighi
12. Recitative –  from Magnificat –  Rupert Lang
13.Mary's Song – from Magnificat –  Rupert Lang
14.Magnificat – from Magnificat –  Rupert Lang
15. Quia Fecit –  from Magnificat –  Rupert Lang
16. Fecit Potentiam – from Magnificat –  Rupert Lang
17.  Suscepit Israeil – from Magnificat –  Rupert Lang
18. Gloria – from Magnificat –  Rupert Lang